Through years of use in a variety of environments, Staircare Stair Nosing have proven to be well designed, stylish and resilient anti-slip stair protection.
Applications have ranged from train stations, convention centres, luxurious office fitouts to demanding slip protection on off-shore facilities and heavy duty machinery.
Staircare Stair Nosing has a solution for just about any application or environment in need of a reliable anti-slip solution. Get in touch today.
Anti-Slip Stair Nosing Range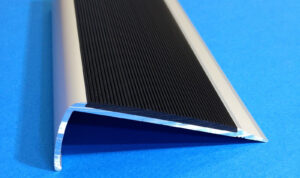 This stair tread has a square face  and is available with either a PVC or carborundum insert. It is suitable for carpet tiles or  hard surface stairs offering very good anti-slip protection.
Read More »