Through years of use in a variety of environments, Staircare Stair Nosing have proven to be well designed, stylish and resilient anti-slip stair protection.
Applications have ranged from train stations, convention centres, luxurious office fitouts to demanding slip protection on off-shore facilities and heavy duty machinery.
Staircare Stair Nosing has a solution for just about any application or environment in need of a reliable anti-slip solution. Get in touch today.
Anti-Slip Stair Nosing Range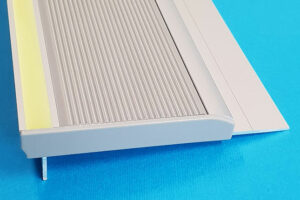 SC19B Photo Luminescent Carpet Stair Nosing have been designed for installation prior to the Carpet, with the carpet or carpet tiles sliding into stair nosing recess both on the step and the riser.
Read More »